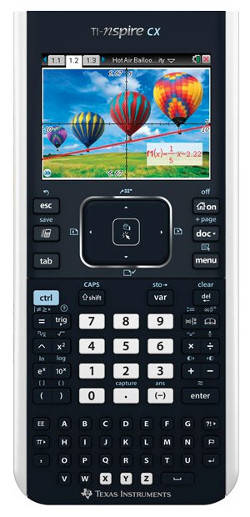 Please buy your TI-Nspire CX on Amazon for the best price and FREE shipping. If you buy through this link, a small percentage of your purchase will help support my work at Tech Powered Math.
Since I work with it more than any other calculator, I like to do an annual refresh of my TI-Nspire CX review, so it's time for 2014 review. The last year has brought a couple of new operating system updates, 3.6 and 3.9.This post is both a TI-Nspire CX review and TI-Nspire CX CAS review, although you'll see while reading it, the two models have more in common than they do differences. 
What's Happening With the TI-Nspire Platform?
First, it's important to understand that Texas Instruments has continued to support the older TI-Nspire "grayscale" models. So when a new operating system like OS 3.9 was released this June (2014) for the CX models, it was also made available for the TI-Nspire graycale models like the clickpad and touchpad. That means that from a software standpoint, anything you can do on on the TI-Nspire CX, you can do on a TI-Nspire grayscale. I don't see this changing any time soon, and hopefully ever. Texas Instruments has been really great about supporting schools and students that adopted the TI-Nspire platform early on. That said, I'd still steer you toward the newer TI-Nspire CX if you can afford it. It's true that you could pick up a used grayscale model on eBay at half the cost if you really need to and simply update the software. If you are in a serious financial bind, it's not the worst option ever. However, there are definitely some advantages to having a TI-Nspire CX over an older model that I'll go into a little further down in this article.
The platform only continues to charge ahead. Almost two years ago, we saw the release of the TI-Nspire iPad app (review). I was very impressed with this app and do recommend it even at close to $30. However, you should keep in mind that it's simply not a replacement for a TI-Nspire CX handheld since it's not allowed on standardized tests like the SAT or ACT.
I will say that even before the updates of the last couple of years, I had felt that from an educational standpoint, the TI-Nspire operating system was superior to any other TI product (such as the TI-84 or TI-89). I like the fact that it uses the type of interface that kids who have grown up in the internet era are familiar with. That means it has drop down menus, the ability to open multiple tabs like a browser, a drag and drop interface, and a file and folder system that's just like using a computer. Graphing calculations have been much simpler, not requiring much button pressing beyond the trace feature because the Nspire automatically detects max and min values and intercepts while using trace. It's also easy to type in your calculations using mathematical symbols so that they appear just like a student would see them in a book or write them in their homework, so there's pretty much no code to learn. What really sets the Nspire apart has always been its dynamic properties. On one screen, you could have a graph, an equation, and a table of values. Grab the graph and drag it into a different shape, and all three adjust simultaneously.
With the OS 3.2 update a couple of years back, Texas Instruments gave teachers and students the features that they have been asking for. There are some really awesome new features for the TI-Nspire CX, but as I explained before, these features are now available on the older TI-Nspire models with a free software update from Texas Instruments. The biggest upgrades with OS 3.2 were graphing features. Owners of any up-to-date Nspire now have the ability to graphing conic sections and any equation written in "x=" form. This is something Texas Instruments users have wanted for years. You can see this and more below in the TI-Nspire CX video review I recently put together.
The updates that came in versions 3.6 and 3.9 were more modest in nature, and would probably be more noticeable to users of the the teacher software than users of the handheld itself. However, TI did make some improvements to the way certain graphics are displayed in graphing mode, spreadsheet mode, and data and statistics mode that are a nice improvement.
Also new for 2014, the latest TI-Nspire CX model has an improved battery design. Previously, if you were having battery issues with your TI-Nspire CX, the battery was wired into the Nspire, and there was always a "hold your breath" moment of disconnecting that wire. The new battery is smaller and connected by a compression contacts like a cell phone battery. It pops in and out very easily. This isn't an issue that comes up very often since the CX has a rechargeable battery, but I'm still glad to see it addressed.
What's Different About the TI-Nspire CX?
The TI-Nspire CX will always be known as Texas Instruments' first color graphing calculator, and an improved design came with it. It's a much thinner, lighter design that we've seen from TI in the past–more like the thickness of a standard scientific calculator than previous graphing calculators. The odd "wings" of previous TI-Nspire models are gone. The screen is gorgeous. The resolution is good, the colors are bright, and the display is easy to read. You won't mistake it for an iPhone, but it's better than any display I've ever seen on a graphing calculator, including the Casio Prizm (review), despite my love for the Prizm. As I type this, the backlighting is bright enough to read easily from my deck in the shade, although not in direct sunlight. However, I don't know anyone who would uses their graphing calculator in direct sunlight.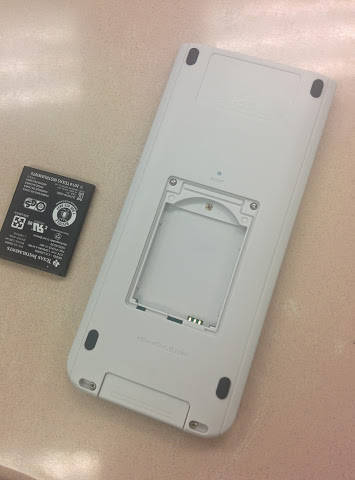 I've tried the image features on both the TI-Nspire CX models and the TI-Nspire graycale. You have the capability to load any JPG, BMP, or PNG file onto the device and curve fit graphs right on top. It certainly works on both color and grayscale models; I've even posted pictures of the grayscale pictures on the Nspire already. However, I think the screen captures are a little deceiving. While the pictures look great on the computer screen in both color and grayscale, in some cases they're actually kind of hard to make out the the Nspire grayscale. No worries if you are on a TI-Nspire CX; images look great on the handheld.
I can also tell you that the buttons are "snappier" and more responsive than previous TI-Nspire models. Back when I first asked him about this, Dale Philbrick, Texas Instruments Marketing Segment Manager for Mathematics, told me that this was accomplished by a combination of hardware and software upgrades.
Along with this change, there are no more interchangeable keypads. That means you can't use the TI-Nspire CX as a TI-84 like older Nspire models. When Philbrick and I talked about this back at the time of the Nspire CX release, he said, "We felt like it was time for people to start using the Nspire as an Nspire." No argument here. In the early Nspire days, I used to be frustrated with the occasional student who refuses to give up their Nspire's TI-84 keypad but then makes mistakes on problems that are so much easier with the Nspire, such as secant, cosecant, and cotangent (which can't be found directly on the TI-84). With each new TI-Nspire OS, the TI-84 just feels more and more outdated.
TI-Nspire CX CAS Review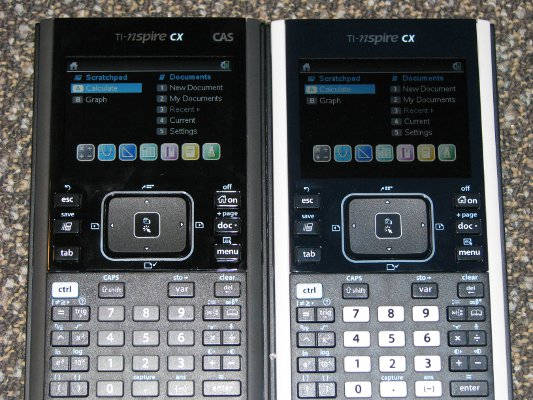 Judging based on polls I've run in the past on Tech Powered Math, I've found that there's actually more interest among TPM readers in the TI-Nspire CX CAS than there is in the TI-Nspire CX. If you're unaware of what a CAS calculator is, it is a Computer Algebra System calculator. This means the calculator has the ability to do algebraic manipulations on variables, such as x + x = 2x. This is a great thing if you plan to take the SAT or AP Calculus, where this type of calculator is encouraged, but not so great if you are taking the ACT, where it is banned.
The TI-Nspire CX and TI-Nspire CX CAS have most of their hardware and functions in common. They're so similar, it'd be easy to mistake one for the other, even after playing with it for a bit. However, the CAS version has a number of menus and submenus tucked away that you won't find in the non-CAS version. In the past, the questions I've received about the Nspire CAS tend to be from TI-89 users wary of the the advanced calculus capabilities of the Nspire CAS. Since OS 3.0, differential equations and a host of advanced calculus features have been included for all TI-Nspire models.
While I've taken math courses all the way to a graduate level, my teaching experience only goes through second semester college calculus, so I can really only speak to classes at that level and below. In those classes, I'd much prefer the TI-Nspire CX CAS to a TI-89 Titanium. Even though the TI-89 Titanium (review) is an excellent calculator, the Nspire CX CAS is easier to work with on conics, has a much nicer UI, is easier for graphing, and has 3D graphing for a couple years now, a drawback that was a problem when the series was first launched, but no more.
Getting Started With Your TI-Nspire
If you find that you need a little help learning how to use your TI-Nspire, I recently started a line of books designed to help students and teachers learn how to use the calculator. TI-Nspire Tutorials Volume 1 is the TI-Nspire for Beginners, that helps you navigate all of the basic features of the calculator. TI-Nspire Tutorials Volume 2 is Using CAS Features Like a Champion, and will get CAS users started with those features only found on the CAS. Both books are currently available in Kindle format for the iPad, iPhone, Android, PC, and Mac. I've recently updated them for TI-Nspire OS 3.9.
Bottom Line TI-Nspire CX Review
At around $130, the TI-Nspire CX and TI-Nspire CX CAS are among the more expensive calculators available today, but they are well worth the price, only a small increase over the TI-Nspire grayscale models. When Texas Instruments debuted the TI-Nspire line a few years ago, it had a few warts, but with each year, they've continued to make massive improvements to both the hardware and software. Even at the beginning, I was impressed with how much faster kids caught on to features like fractions, graphing, and tables on the TI-Nspire than they did on the TI-84. From remedial Algebra through AP Calculus and my 2012 Illinois state championship math team, the TI-Nspire is my top choice for my students.
With the Nspire series, my students spend less time learning calculator code and more time learning math. Since the release of the TI-Nspire CX and continued OS upgrades, this is a fully mature platform. No longer can Texas Instruments users cling to the good old days of the TI-84 and TI-89 and feel like they honestly have the best the market has to offer. The future has arrived. The TI-Nspire CX is TI's platform of the next decade.
Please buy your TI-Nspire CX on Amazon for the best price and FREE shipping. If you buy through this link, a small percentage of your purchase will help support my work at Tech Powered Math.

Related articles: