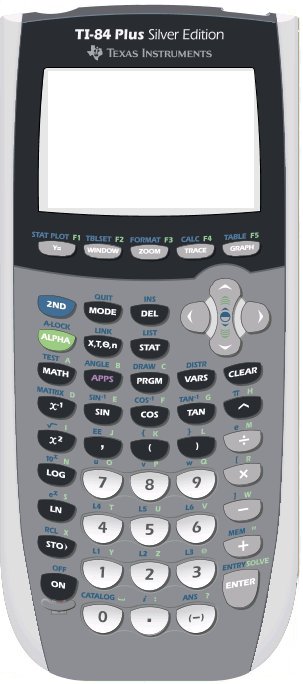 Looking for a cheap TI-84 plus? You can get your TI-84 for less and with FREE shipping by clicking here to see it on Amazon.

UPDATE (3/18/13): If you are interested in the TI-84 family of graphing calculators, you need to check out my TI-84+C Review where I take a hands on look at the new color version of the TI-84.
Long ago and far away (in 2010), I did a review of the TI-84+ graphing calculator. While the changes to the TI-84+ since then have been minor, the graphing calculator landscape has changed quite a bit in that time. The TI-84 has been the "old reliable" in the Texas Instruments landscape for quite some time. In fact since TI released their first graphing calculator in 1990, the TI-81, a number of incremental changes have occurred. The TI-81 was succeeded by the TI-82, TI-83, TI-83 plus, and TI-84 Plus. The latest version is the TI-84 plus Silver Edition. There were small improvements along the way, but until recently (see below), the upgrades to the operating system were surprisingly modest. If you ever used a TI-81, you could jump in on a TI-84 without missing a beat; they're very similar. Perhaps that's because for a long time, significant improvements weren't necessary because of TI's huge lead over the competition.
I've had a ton of experience working with students on the TI-84 plus, from the classroom to math team to ACT test prep. Although it's no longer TI's cutting edge calculator (that label goes to the TI-Nspire CX), it's still a very strong calculator. I can't really understate the stranglehold this line of calculators has had on the math education community. There's no doubt that part of the reason that schools have been slow to the adopt the Nspire is because the TI-84 has just been so wildly popular and schools have invested in TI-84 software, teacher training, and classroom sets of the calculators.
Who is the TI-84 designed for?
No doubt, the TI-84 plus is designed with the high school student in mind. Many, many college students also use a TI-84 as their calculator of choice. It's accepted on almost every standardized test, including the ACT, which won't accept calculators with computer algebra systems like the TI-89 Titanium or TI-Nspire CX CAS.
What is TI-84 OS 2.53 MP?
In the spring of 2010, Texas Instruments came out with 2.53 MP, an operating system that finally gave the TI-84 "mathprint." This means that fractions look like fractions, exponents look like exponents, and far more. A lot of new templates that make advanced algebra and calculus a lot easier were added too like non-base 10 logs, summations, integrals, etc. This is a big update and one that was sorely needed. The TI-84 plus was getting passed up by rival calculators from Casio and HP before this update. I was really excited by this update and almost felt like my students were getting a new calculator for free.
Please note, Texas Instruments has not  issued this update for the TI-83 plus. If anyone tries to tell you the TI-83 and TI-84 are essentially the same calculator (which they used to be), they don't know what they are talking about. Run as fast and far from that person as possible because they're giving you terrible advice. I would never recommend a student get the TI-83 because since 2.53 was released, the TI-84 is now light years ahead of the TI-83. In fact, in early 2011, Texas Instruments went even one update further since and issued OS 2.55, which added improved statistics features among other minor changes. Again, there was no update to the TI-83 family, which has been without an OS update since 2006. Simply put, the TI-83 is not going to get the improvements that the TI-84 has.

Why buy the TI-84 plus?
That's an easy one to answer. The TI-84+ has nearly 100% acceptance in the educational community, or at least it did at one point. More schools are embracing or requiring the TI-Nspire CX all the time, so you should check with your school, but never has there been a calculator more accepted by teachers, schools, and standardized tests than the TI-84 plus. Just about every math teacher knows how to use it and teach with it. If your teacher doesn't, you'll have no problem finding books or videos (including my own) to help you along the way. Many high school textbooks are even written with TI-84 directions right in the text.
What about alternatives?
I'd be lying to you if I said the TI-84+ was currently my calculator of choice. It isn't. In fact, it didn't make my 2011 or 2012 lists of the Best Graphing Calculators for School. The TI-Nspire CX is a vastly superior calculator at this point both in hardware and user interface. Comparing these two calculators is like comparing the original NES to a Nintendo Wii. For more on this comparison, check out my TI-84+ vs. TI-Nspire CX review. If your reason for considering the TI-84+ is to save a few bucks over the TI-Nspire CX, check out the Casio Prizm (review). It's about the same cost as a TI-84+ but with a more advanced OS and easier to use interface. Unless your school requires the TI-84, you're missing out by not giving one of these newer calculators a try.
Bottom line TI-84 review:
The TI-84 plus isn't the cutting edge technology it once was, but it's still a good calculator. The release of the newer operating systems over the last couple of years have kept it in the conversation with the TI-Nspire CX and Casio Prizm, but make no mistake about it, those calculators are significantly better than to the TI-84+. Still, if you just want something that works well, is very durable (and actually built like a tank), and has a full complement of support materials, the TI-84+ still gets the job done. Heck, the TI website has so many free TI-84 apps, you won't have time to try them all. Check out the TI-84+ on Amazon and get free shipping today.

Related articles: