By Tech Powered Dad | July 31, 2014
Looking to buy a TI-92 Plus? I recommend you find the best selection on a TI-92 on Ebay.
When I started coaching our math team in 2007, I was shocked to find I'd inherited a closet full of TI-92's just collecting dust. They were all in perfect working order despite being a decade old. Since it turned out they were allowed in our competitions, we set to work upgrading the operating systems, loading up apps, and training the kids on them. They loved them, and I laugh when I think about the intimidation factor we had carrying these massive calculators into our regional competition when many of our opponents were using simple scientific calculators.
Having worked with it for a number of years, it only makes sense to do a TI-92 review. If you are old enough to remember the 1995 release of the TI-92, you were probably blown away the first time you saw the it. It resembled something of a cross between a calculator, a laptop computer, or even early PDA devices.  With a full QWERTY keyboard, it was hard to know what to make of a calculator that you could type on, and was virtually twice as big as a standard graphing calculator.
No doubt about it, the TI-92 was groundbreaking. It was the first Texas Instruments calculator that had a computer algebra system (CAS). This meant users could give the calculator equations to solve and receive answers in fraction form, radical form, or even ask the calculator to solve one variable in terms of another. This was an incredible new ability to have in the palm of your hand (even if it took two hands). The TI-92 also was on the cutting edge for giving users the ability to graph in three dimensions.
In the late 90's, Texas Instruments began putting flash memory into its calculators, making it easy to upgrade the operating system and add apps that were available via their website and by an active programmer community.  Thus, the TI-92 plus was born in 1998. The biggest upgrade for the TI-92+ was the flash memory. Another noticeable improvement was the a "black screen" display that was much higher contrast and easier to read than the original TI-92.
Despite it's amazing capabilities, there was some reluctance on the part of consumer to jump to the TI-92 due to its incredibly bulky design and the fact that it was banned from virtually every standardized test as a result of its QWERTY keyboard. Consequently, the TI-89 was also released 1998, a calculator with virtually all of the capabilities of a TI-92 but shaped like a traditional graphing calculator and legal on the ACT (read my review of the TI-89 Titanium).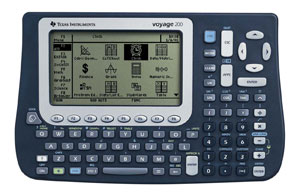 Today, the legacy of the TI-92 lives on. In 2002, the TI-Voyage 200 (review), a slightly smaller, lighter version of the TI-92 was released with a refreshed look and feel. Aside from increased memory and the use of AAA bateries instead of AA, the TI-Voyage specs are almost identical to the TI-92+, and as a result, it is also banned from virtually every standardized test.
Despite the minor drawbacks of size and the standardized test ban, the TI-92+  turned out to be a powerful device with a significant following, and with good reason. While the TI-92 and TI-92+ calculators are no longer manufactured by Texas Instruments, you can still buy a used TI-92+ on Amazon if you long to relive the 90's through an extremely large calculator. They have proved to be incredibly durable and reliable, and you can bet it will have at few years left in the tank. On Amazon, the TI-Voyage can be purchased new. Just reviewing the TI-92 brings back many fond memories. If you are a collector or just looking for a cheap calculator with a computer algebra system, I can still highly recommend the reliable TI-92 plus.
Please note that some links on this site are affiliate links, meaning a percentage of your purchase will support my work at Tech Powered Math at no additional cost to you. Thanks for your support!