By Tech Powered Dad | September 18, 2010
Please click here to buy your Casio fx-9860GII on Amazon .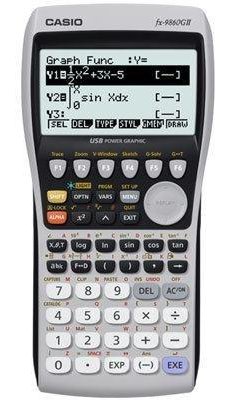 I've been a Texas Instruments guy for a long time. Most teachers are. TI has had the corner on the educational market for over a decade. That said, I've seen more Casio's popping up in my classroom in recent years, and I recently decided it was time to investigate. I've spent a lot of hours over the last month investigating the question of Casio vs. Texas Instruments with some of Casio's most popular models.
As the flagship of Casio's graphing calculator series, it made sense to review the Casio fx-9860 series first.  The fx-9860GII is the newest version, having debuted in 2009.  It features a backlit display and a USB port for upgrading the operating system or downloading apps (available free on the Casio Education site). A version with SD card also exists.
Casio is marketing itself as the budget alternative to its rivals, probably primarily in reference to the current calculator king of the hill, Texas Instruments. I was interested to see how this cheaper device would stack up against the popular TI-84+ and TI-Nspire. What I found was that the device competes well based not just on price but also simplicity and features. The learning curve was much lower here than with many comparable graphing calculators.
Who is the Casio 9860GII designed for?
First, it seems to be made for somebody who doesn't want to spend a lot of time learning how to use a graphing calculator. Most of the functions on the fx-9860GII are self explanatory and won't require much time in the owner's manual. Pressing menu takes you to a home screen that reveals a graphical display of all of calculator's abilities (graphing, equation solver, tables, conics, etc). You could spend a lot of time searching for these features within the menu systems of competing products. The button layout is logical and easy to learn. It's also fantastic that the 9860GII simplifies square roots, and the graphing features are far simpler to use than a TI-84+. No "left bound, right bound" decisions necessary, and you can have the calculator find points by x or y (many graphers only allow you to input x). 
Another selling point is that this calculator is usually well under very affordable. Unless you can find an incredible sale, the comparable Texas Instruments graphing calculators will be at least $20 more, possibly significantly more.  It doesn't feature the savings of it's budget cousin, the fx-9750GII, but it is definitely cheaper than most. Casio also has a trade-in program for schools if you are a school purchaser and decide to change to a different model at a later date.
A really unique feature is the backlighting. There just aren't a lot of graphing calculators that have it. And while it's unlikely many students will sneak it under the covers to work just a few more problems before bedtime, there are some classrooms that are poorly lit, and teachers that like to turn off the lights for that overhead or LCD projector. I was actually concerned from the press pictures that I was concerned that the backlight might be too strong. However, after trying it out, I can tell you that the backlight is strong enough to make the display clear without being distracting you the person sitting next to you. 
Bottom line Casio fx-9860GII review:
To be honest with you, after so many years of working with Texas Instruments products, I went into this review with low expectations. After spending a month working with the fx-9860GII, I can tell you I was wrong to feel that way, and I am definitely a believer in it. It is a really strong device. Casio has delivered on its promises of simplicity and value with the fx-9860GII. If you're comparing the TI-84+ vs. the fx-9860GII, I can recommend the fx-9860GII, particularly with high school students. It's easier to use, cheaper, and it has more features. 
You may also want to look at Casio's fx-9750GII (my review of the 9750GII). It doesn't have as many features, but the price is bargain basement. If you've got just an extra few dollars, though, go for the 9860 GII.
Please click here to buy your Casio fx-9860GII on Amazon .
Please note that some links on this site are affiliate links, meaning a percentage of your purchase will support my work at Tech Powered Math at no additional cost to you. Thanks for your support!