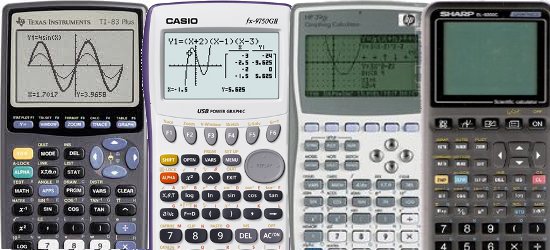 I don't have up information for some of the graphing calculators visitors to TPM search for. While I doubt I'll ever have up a review for every graphing calculator ever made, it occurred to me that I could put up a page with a general overview and price guide for buying everything from vintage graphing calculators to the latest. While there are some very sophisticated buyers out there, there are also a lot of parents shopping for kids that still the the TI-83 is a cutting edge calculator, and even a little general information might really help.
Here's my best attempt at giving you a snippet of information on most of the popular models over the last 25 years, sorted by device manufacturer. I've taken a look at both Amazon and Ebay to see what these calculators are going for in 2011 so you can get the best price if you care to pick one of them up. Wherever I've been able to locate a free owner's manual download, I've included a link to that as well. Remember, CAS stands for computer algebra system, a feature that makes these calculators illegal on the ACT, but is fine for College Board tests like the SAT and AP exam.
In this article: Texas Instruments Casio HP Sharp
Texas Instruments Graphing Calculators
Texas Instruments has dominated the graphing calculator industry for 20 years by building relationships with educators and products loved by students and teachers alike. Their calculators from 1990-2006 had a lot of features and menus in common, but in 2006, they broke tradition and released a groundbreaking new platform, the TI-Nspire.
TI-73, TI-73 Explorer
Years: 1998-present
CAS: NO
Notes: This is Texas Instruments's graphing calculator designed for middle school students. It's pretty much the only one currently being manufactured that is targeted at that age group. The "Explorer" model is the newer model. Read my TI-73 review.
Cost: Generally costs around $80 new.
Buy the TI-73 Explorer on Amazon.
TI-80
Years: 1995-1998
CAS: NO
Notes: This calculator was designed as a middle school calculator. It was the predecessor to the TI-73. It never saw widespread adoption in older grades.
Cost: Ebay was the most competitive, prices ranging from $10-$30 to buy a TI-80.
TI-81
Years: 1990-1993
CAS: NO
Notes: The TI-81 was the beginning of the TI-81, 82, 83, 84 series, an incredibly popular series that dominated the market for two decades. Even modern TI-84 users could pick up this model and jump right in.
Cost: Do not pay more than $20 for this calculator used. You may occasionally find it for under $10.
TI-82
Years: 1993-present
CAS: NO
Notes: It's amazing that you can still buy this device new. With it's simplistic OS and lack of flash memory, it's not as good as the more modern TI models.
Cost: You can buy it new for around $100 on Amazon, but I wouldn't. If you're dying to have this model, pick it up on Ebay used for between $10 and $30. Read my TI-82 review.
TI-83, TI-83 Plus, TI-83 Plus Silver Edition
Years: 1996-present
CAS: NO
Notes: The iconic TI-83 solidified Texas Instrument's stranglehold on the market. The original TI-83 and TI-83 Plus SE have been discontinued, but the TI-83 Plus persists. It wouldn't be my choice. Don't let anyone tell you that there's no difference between the TI-83 and TI-84. The TI-84 has "math print" and continues to receive OS upgrades from Dallas, and that's led to differences that makes this calculator more difficult for students to use. Read my TI-83 review for further explanation on the difference between the two calculators.
Cost: I'd pick this one up on Amazon new for about $90, but again, you're better off to go with the TI-84 Plus.
TI-84 Plus, TI-84 Plus Silver Edition
Years: 2004-Present
CAS: NO
Notes: The TI-84 Plus is an upgraded version of the TI-83. It includes a USB port, more memory and the ability to use "math print" (aka pretty print). That means fractions look like fractions, exponents like exponents, etc. It makes things much easier for kids. The Silver Edition has more memory that the Black Edition. Read my TI-84 plus review.
Cost: Amazon vendors have a tendency to overcharge for the TI-84, especially at back to school time. On Ebay, you can pick one up new for under $100, used for under $40. You don't necessarily need to shy away from a used one because Texas Instruments builds these things like tanks.
TI-85
Years: 1993-1997
CAS: NO
Notes: I don't know why this calculator series didn't catch on the way the TI-81 series did. The menu system is cool, using tabs at the top of the screen, and I think it's a much better interface the the TI-83 (and so on). The Casio Prizm feels like it has some elements in common with this calculator.
Cost: Given how old this model is, I'd feel more comfortable picking one up from an Amazon vendor. Unlike most of the older models in this list, you can find it there pretty consistently. It'll cost about $30 on Amazon.
TI-86
Years: 1997-2004
CAS: NO
Notes: This is a slightly upgraded version of the TI-85. The most obvious difference is that the screen is black instead of blue, making it easier to read.
Cost: Much like the TI-85, I'd recommend Amazon here. It'll cost you about $30.
TI-89, TI-89 Titanium
Years: 1998-present
CAS: YES
Notes: This model features a computer algebra system, making it illegal on the ACT, but legal for AP and SAT tests. It has 3D capabilities and is one of my favorites. Pay the extra few bucks to get the Titanium so you've got the USB port and pre-installed apps. The non-titanium version was discontinued in 2004. Read my TI-89 Titanium review.
Cost: Ebay is by far the better deal here. It's a fair price to go a little bit over $100, but most often you'll find it even cheaper than that.
Buy the TI-89 Titanium on Ebay.
TI-92, TI-92 Plus
Years: 1995-2006
CAS: YES
Notes: This behemoth features a full QWERTY keyboard, making it illegal on virtually all standardized tests. Still, it's a pretty darn cool calculator, and they've held up remarkably well. The Plus version has flash memory, so you can add apps. Read my TI-92 review.
Cost: You can usually find the TI-92 for between $30 and $40 on Amazon. I wouldn't go over $50.
TI-Voyage 200
Years: 2006-present
CAS: YES
Notes: This is essentially an upgraded version of the TI-92. It's a bit smaller and uses AAA batteries instead of AA. Read my TI-Voyage 200 review.
Cost: Expect to pay between $170 and $210 on Amazon
Buy the TI-Voyage 200 on Amazon.
TI-Nspire Clickpad, and TI-Nspire CAS Clickpad
Years: 2007-2010
CAS: NO and YES (obviously yes if model says CAS)
Notes: This began TI's big departure from the TI-84. The TI-Nspire is more like a math computer than previous graphing calculators. You'll need to read my review for a full explanation. The "clickpad" itself wasn't a great layout for a keypad, which led to TI releasing the newer "touchpad" in 2010. The non-CAS version has a removable keypad, meaning you can replace the clickpad with a touchpad. That doesn't work on the TI-Nspire CAS clickpad. Read my TI-Nspire review.
Cost: If you're getting a clickpad non-CAS, buy it used on Ebay since you'll probably upgrade the keypad for $10 later anyway. It should cost under $50.
Buy the TI-Nspire Clickpad on Ebay.
TI-Nspire Touchpad, TI-Nspire CAS Touchpad
Years: 2010-present
CAS: NO and YES
Notes: TI realized the original button configuration wasn't great and rearranged it. They also added a touchpad, like on a laptop computer, to control the cursor. This is a TOUCHPAD, not a TOUCHSCREEN. They are very different. On both the touchpad and clickpad versions of the Nspire, you can replace the keypad with a TI-84 keypad to make the calculator run like a TI-84. This was most likely done to prevent hyperventilation with teachers who'd been on the TI-8X series for 15 years.
Cost: Price is varying wildly due to the introduction of the TI-Nspire CX. Do not pay over $150, though. You should be able to get the newer CX for about that amount soon.
Buy the TI-Nspire Touchpad on Ebay.
TI-Nspire CX,TI-Nspire CAS CX
Years: 2011-present
CAS: NO and YES
Notes: Texas Instruments had to keep with the Jones's (Casio) and introduced the CX version of the Nspire. The Nspire CX has color and uses an internally rechargeable battery, and the removable keypads are out, but other than that is practically identical to the older greyscale versions.
Cost: As of this summer, it's all over the place because they are in short supply. I think it will eventually settle in between $150 and $170, but it could be more in the short run. Ebay seems to have the most steady supply right now.
Casio Graphing Calculators
Casio has been the budget alternative to Texas Instruments for many years. Their graphing calculators are the only alternative to TI in some stores. In 1985, they began the graphing calculator revolution by releasing the world's first, the fx-7000G. Despite not having the same adoption level as Texas Instruments, they've always shown interest in blazing new trails, releasing a touchpad calculator, the ClassPad, and the world's first full color graphing calculator, the Prizm.
Casio fx-7000G
Years: 1985-?
CAS: NO
Notes: Notable as the world's first graphing calculator. It set many standards that were adopted by other manufacturers.
Cost: It may be a collector's item, but it's dirt cheap. Expect to pay just $10-$25 on Ebay.
Buy the Casio fx-7000G on Ebay.
Casio fx-7400G, fx-7400G Plus, fx-7400G Plus GY, fx-7450G
Years: 1996-?
CAS: NO
Notes: Another discontinued series, this is a stripped down version of the 9850 series.
Cost: Typically available for $30-$50 on Ebay
Buy the Casio fx-7400G on Ebay.
Casio fx-9750G, fx-9750GII
Years: 2005-present
CAS: NO
Notes: Excellent calculator for the price. Essentially a cheaper version of the fx-9860GII as it does not have "natural display" (pretty print). While I like the fx-9860GII better, you have to give it to Casio for making a calculator with this many features so affordable. Read my fx-9750GII review.
Cost: Don't pay over $50 for a new one.
Buy the Casio fx-9750GII on Ebay.
Casio cfx-9800, cfx-9850
Years: 1998-?
CAS: NO
Notes: With this now discontinued series, Casio brought the world the first color graphing calculators. They had only 3 colors, nothing like today's Prizm and Nspire CX, and they didn't create the same buzz today's color graphers are generating
Cost: Price seems to vary dramatically, but they are often available for under $40 on Ebay.
Buy the Casio cfx-9800 on Ebay.
Casio fx-9860G, fx-9860GII
Years: 2005-present
CAS: NO
Notes: This is the "upscale" version of the fx-9750GII. It has pretty print and can simplify exponents, radicals, etc. A very good calculator, and much of its interface was borrowed for the color Casio Prizm. Read my fx-9860GII review.
Cost: Normally around $70-$80 on Ebay.
Buy the Casio fx-9860GII on Ebay.
Casio Prizm fx-CG10, fx-CG20
Years: 2011-present
CAS: NO
Notes: World's first full color graphing calculator. The fx-CG10 is the model number for North America. It has the ability to do color photographs, animated photographs, and is easy to use. This and the TI-Nspire CX are the two best calculators currently on the market for students. Read my Casio Prizm review.
Cost: Surprisingly cheap. You can get this calculator for about $120 currently, but Casio has said to expect a price drop around back to school time 2011 that will make it closer to $100.
Buy the Casio Prizm on Amazon.
Casio Classpad 300, Classpad 330
Years: 2003-present
CAS: YES
Notes: This is the only touchscreen calculator currently being manufactured. It uses a stylus like the old Palm Pilots and other PDA's, and it's been banned from virtually every standardized test in America. Read my Casio Classpad 330 review.
Cost: $150-$170 on Ebay.
Buy the Casio Classpad on Ebay.
Casio Algebra FX 1.0, FX 1.0 Plus, FX 2.0, FX 2.0 Plus
Years: 1999-?
CAS: NO for 1.0 models, YES on 2.0 models
Notes: These discontinued models are harder to come by than most of the other calculators on Casio's list. The 1.0 models do not have a computer algebra system while the 2.0 models do.
Cost: $90-$130 on Ebay.
Buy an Algebra FX 1.0 or 2.0 on Ebay.
HP Graphing Calculators
Of all the manufacturers on the list, HP has the most significant "cult following," in large part to their unique Reverse Polish Notation calculators. They are popular with certain segments of the financial, engineering, and computer worlds. Many HP fans would pay more for a 20 year old calculator than they would for a new device. As a result, the prices for the older models can seem excessive, but not to diehard HP fans.
HP-9G
CAS: NO
Notes: This is an bargain basement graphing calculator with a small display and low resolution. It was an attempt to compete at the very cheapest edge of the market, and it wasn't exactly embraced by even bargain shoppers.
Cost: $20-$30 on Amazon, money that would be much better put towards the purchase of an HP-39GS or other model on this list.
HP-28C, HP-28S
Years: 1986-1992
CAS: YES
Notes: HP's first graphing calculator was released just a year after Casio's fx-7000 (the world's first). The HP-28 series was the first graphing calculator with a CAS.
Cost:  You may be able to find one that's lightly used for $30-$50, but a mint HP-28 can cost up to $200.
HP-39G, HP-39G+, HP-39GS, HP-40G, HP-40GS
Years: 2000-present
CAS: NO for HP-39 models, YES for HP-40 Models
Notes: These are HP's current entry line models. You will find that the only significant difference between the HP-39 and HP-40 is the computer algebra system. They are typically very affordable, especially the HP-40GS considering its CAS.  The GS models are the latest in the series. Read my HP-39GS and HP-40GS review.
Cost: The HP-39GS typically retails at around $40-$50 on Amazon. I've seen weird price fluctuations on the HP-40GS. If you're seeing it for much over $50, somebody is trying to pull a fast one–keep shopping.
Buy the HP-39 or HP-40 on Amazon.
HP-48S, HP-48SX, HP-48G, HP-48GX, HP-48G+
Years: 1990-2003
CAS: NO
Notes: The HP -48GX was my college graphing calculator, an incredibly powerful device for the time (Mortal Kombat on a calculator was amazing in 1995). The Reverse Polish Notation and using "the stack" took some getting used to, and as a result, nobody ever asked me to borrow it more than once. My friends always gave up in frustration after just a couple of minutes, the 48GX beeping at them with every mistake they made.
Cost: Varies greatly based on which model in the series and condition of calculator. You could get lucky and find one for $20 or pay up to $200 for an unopened one. Norm is probably more like $50-$70.
HP-48GII, HP-49G, HP-49G+, HP-50G
Owner's manual
Years: 1999-Present
CAS: YES
Notes: The current calculator in this line is the HP-50G. It is the top of the line model for HP and does feature a CAS. Having spoken with HP reps in person and via email, I know they consider the HP-39/HP-40 series to be more appropriate for the high school classroom than the HP-50G. This puzzles me since only the HP-50G offers 3D graphing, something that can be a nice feature as you progress through calculus courses. If you want an HP and money isn't a huge factor, spring for the HP-50G. Ready my HP-50G review.
Cost: A current model HP-50G should be somewhere between $100 and $120.
Sharp Graphing Calculators
As Sharp is the only manufacturer on this list no longer making graphing calculators, the information on the web about them is sparse at best. I do have firsthand experience with one of their calculators, the EL-9200, and another one, the EL-9650, is pretty famous for being the first stylus based calculator.
Sharp EL-9200, EL-9200C, EL-9300, EL-9300C
CAS: NO
Notes: This was my first graphing calculator. My parents bought it for me as a high school junior in 1993. It had pretty print all the way back then. I don't know why it took so long for the other manufacturers to catch on to how useful that is, but I was zipping along with fraction bars and floating exponents while my TI-82 friends struggled to figure out the syntax. I do recall that memory was extremely limited. At one point one of my friends destroyed my original EL-9200 with an electrostatic generator in my physics class and he replaced it with an EL-9200C. I never did figure out the difference between the two.
Cost: Given how unusual they are, it's pretty much whatever the seller wants. Ebay prices have been as low at $10 for a used model and as high as $65 for a model still in the box.
Buy the Sharp EL-9200 on Ebay.
Sharp EL-9650
CAS: NO
Notes: This is a true collectors item. The EL-9650 was the first graphing calculator with a touchscreen. Of course, the College Board and ACT couldn't have that, so they banned it from standardized tests, effectively dooming the 9650 into oblivion.
Cost: If you can find it, it'll most likely be on Ebay. They can usually be found for under $100 when available.
Buy the Sharp EL-9650 on Ebay.
Sharp EL-9900
CAS: NO
Notes: No first hand experience with this one, but the EL-9900 sure does look attractive. I don't understand why some of these models didn't catch on better. Between the pretty print and good menu interface, the Sharp graphing calculators should have been more successful than they ended up being.
Cost: This model seems to have held its value really well. You can expect to pay between $100 and $130 to purchase an EL-9900.
Buy the Sharp EL-9900 on Ebay.
Related articles: